Kora Marina Model Bio & Nude Cam Show
Oh my God! Kora Marina is so f'n hot that she almost looks fake… almost. But hot damn, after watching a few (more like every one!) of her cam videos I can tell you that she's very real. And she has no problem letting the drooling fools (me!) of the world see her pleasure herself in her birthday suit. Man, what a treat.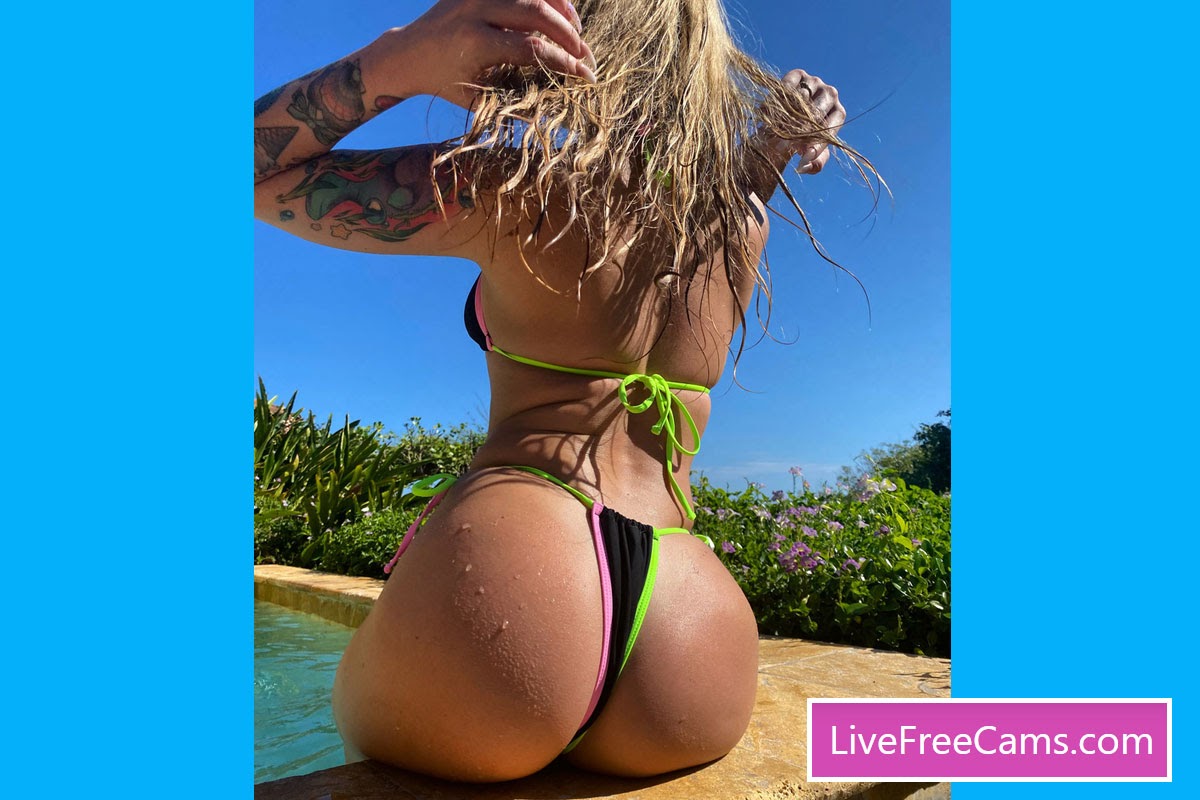 Are you a Kora Marina fan too? Have you ever wished that you could see much more of her? The opportunity exists as long as you're willing to sign up on one of her live cam show accounts. Otherwise, you'll have to learn to live with the free glimpses of safe for work content that she provides on Instagram and other places.

And speaking of Insta…
Kora Marina Is On Instagram
We first discovered this beautiful brunette bombshell on her Instagram – although she's blonde right now. And I have to tell you, seeing her pouty lips and beautiful body as she shows off her latest bikini is enough to drive a guy insane!

But that's kind of the point. She knows just how sexy she is and she knows that you're going to pay a couple of bucks to see her perform lewd fetish acts upon herself as thousands of dudes enjoy the show.

Believe it or not, she doesn't have the biggest Instagram following but I expect that will change with time. Right now, she has 7220 followers. I bet she'll have more than 100,000 followers by the end of next year.

Anyway…
Kora's Twitter Porn Account
The Florida native has a huge account with over 131,000 followers and counting. Even better, because it's Twitter, she's allowed to post as many videos and pictures as she wants that aren't SFW. And trust me when I tell you, many of these pictures really aren't safe for work at all.

So, if you're looking to get a glimpse of the goods, you should definitely check out her Twitter account because it has lots of great pics.
Find Kora Marina On Cam Sites Like LFC
Right now, if you're interested in seeing her pleasure herself on video in the most graphic ways possible, then you should definitely check her out on cam sites.

You can also find Kora Marina on CamSoda and ManyVids as well, so don't forget to check her out on both of those sites too. I promise that the action is hot, hot, hot!
Here Amazon Wish List
If she turns out to be your favorite cam girl, you might want to send her a gift or two to show her how much you care.

Some of her favorite wish list items include:
Bikinis
Thigh-high stockings
Leather swimsuit
G-string underwear
Thigh length socks
Striped thigh-high tube socks
Body piercing jewelry
And lots of other fun products
XBIZ
Even more interesting, Noah Bensi not only shares tons of content on cam sites, she also teaches other girls how to get started because she's a Model Mentor. Visit her XBIZ page to find out her best tips, deep dives, and even get a sneak peek behind the scenes as she shows you exactly what it takes to become a successful cam model.
Her Amazon Wish List Needs You!
Finally, on Noah's Amazon wish list you'll find the following stuff that you can buy for her because she's amazing and she deserves it:
Clothes
Running shoes
Weighted hula hoop
Rainbow projection lamp
Plush dolls
Nail polish kit
Cosplay jewelry
Sexy cosplay costumes
and so much more
Conclusion: Chat With Kora Marina Naked On Cam Now!
There's no other way to put it, chatting with the beautiful Kora is the way to either start or round out your day. She's about as perfect as they come and the very first girl I suggest connecting with here at Live Free Cams. Get registered and find out what it's like to spend time with her in private chat today!